It's cloudy and a glorious 64 degrees...ahhhhhh! But, that's not necessarily the entire reason for the title of my post :)
I try to keep up with all of the 'trends' and 'hot colors' of the season. Seems like yellow and gray are amongst the hottest color trends this year; if you follow the newest releases in scrapbooking, then you're probably familiar with Authentique's Blissful
I found that the color combination soon began to grow on me so why not make some crepe fringe to match? You can now find
--Rain or Shine--
Handmade Crepe Paper Fringe at my
Dot & Whimsy
Etsy shop! Colors of marigold, gray and white have been machine-stitched, doubled, machine-stitched again and then carefully handcut to create a fun and festive fringe.
On a BETTER note, tomorrow we are hosting a fantastically fun BLOG HOP at
Paper Issues
.
** PRIZE GIVE-A-WAY** PRIZE GIVE-A-WAY**
Tons and tons of prizes to be given away!
My prize give-a-way? One winner will receive THREE skeins of --On The Fringe-- Handmade Crepe Paper Fringe! I have tons of color schemes; you get to pick your very own three :) What do you do with fringe? The fringe that I make isn't necessarily the kind that you hang from the rafters; rather, I created this fringe to outline the tops of baskets and bags, to add a little pizazz to cards and scrapbook pages, or to embellish party hats, clay figurines and prim dolls...there are literally tons of possibilities. Everyone seems to ♥ ♥ ♥ tha FRINGE!
So get ready tomorrow, Friday September 16th to begin hopping with us!
**********************************
I have some more FUN news! It seems like so many of my Paper Issues, My Scrapbook Nook and Your Scrapbook Stash gals are getting in on a lot of Design Team action...Doodle Bug, American Crafts, Pebbles...whew! I'm very excited for ALL of my friends; well-deserved :)
So, for me? I've been asked to be a Guest Designer at
Kraft Outlet
. Oh. My. Goody. Have you visited?
This girl LOVES some kraft goodness ♥ It's a staple in my stash.
My design month will be March 2012...I'm all ready looking forward to it...I will get a head-start by doing a little shopping beforehead LOL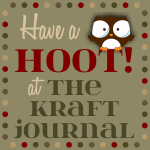 Okay, all! I will be back tomorrow bright and early to get things going for the Blog Hop! I hope you stop by...lots of prizes and cool tutorials broken down into Scrapbook/Art Journal, Altered Project (me) and Cards...so whatever your heart desires, we've got you covered :)