It is time to announce the My Scrapbook Nook Blog Hop winner from my blog! My daughter, Sydnee, chose the number and the winner is
.
.
KariAnnS said...
I love your layering technique!
November 2, 2011 12:39 PM
Kari Ann, just email me at
paperposey@aol.com
with your mailing address and choices of THREE different fringe assortments. You can view them all
here
Congratulations, Kari Ann! Thank you, everyone for the sweet comments...I cherish them all :)
The official winner of the MSN prize will be announced very soon!
-----------------------------------------------------
MY SCRAPBOOK NOOK
Well, if you frequent the forum at The Nook, then you know we've been without power for a week now...I'm happy to announce that it's back up and running!
While the board was disabled, a blog was set up so that we could continue to share challenges and news with all of you.
My latest CARDS Challenge will go live at the blog tomorrow, but to keep with my "Wednesday" schedule at the forum, I did go ahead and post it there today.
I'm giving away a PRIZE to the first (non Nook DT person) to complete the card and upload it here at the
forum
*hint* the theme is "Give Thanks" :)
And here is a beautiful collage of the November Kit...shop for yours today!
.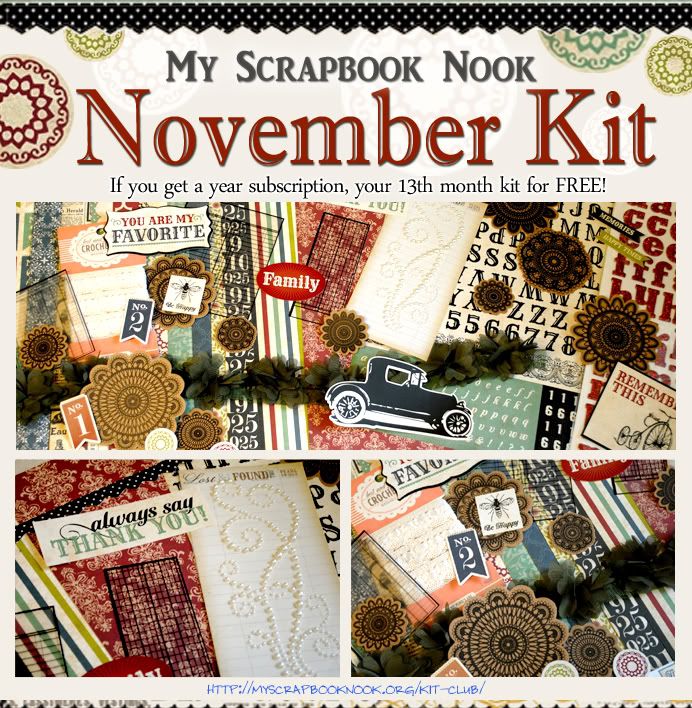 ------------------------------------------------------------------
I HEART IPPITY
I adore this newest set of stamps that I received from Ippity last week!
I had my Christmas tunes playing, so I was really in the 'spirit' while making this little cutie.
I stamped, then cut out the image from a sheet of white cardstock. I mounted that onto a sheet of patterned paper (by My Mind's Eye) and cut it out a little larger. Using that same size, I also cut a circle from the front of my card. The actual stamped image is placed on the inside of the card just for kicks :) I then outlined the circle in baker's twine.
Heather has ALL of your favorite Ippity stamps by Unity! Be sure to visit her at
YOUR SCRAPBOOK STASH
It's a bittersweet time for Erica at YSS! She will officially close the store's doors on December 31, 2011. I can simply say that I have thoroughly enjoyed designing for one of the most fabulous scrapbook stores on the net :)
YSS will be greatly missed!
I will be working with some adorable papers and accents from Bella Blvd this month...I'll be sharing those soon as my last stint as a Design Team member *sniff*
----------------------------------------------------------------------
I will see you all in a couple of days, if not tomorrow.
Take care,
Shellye